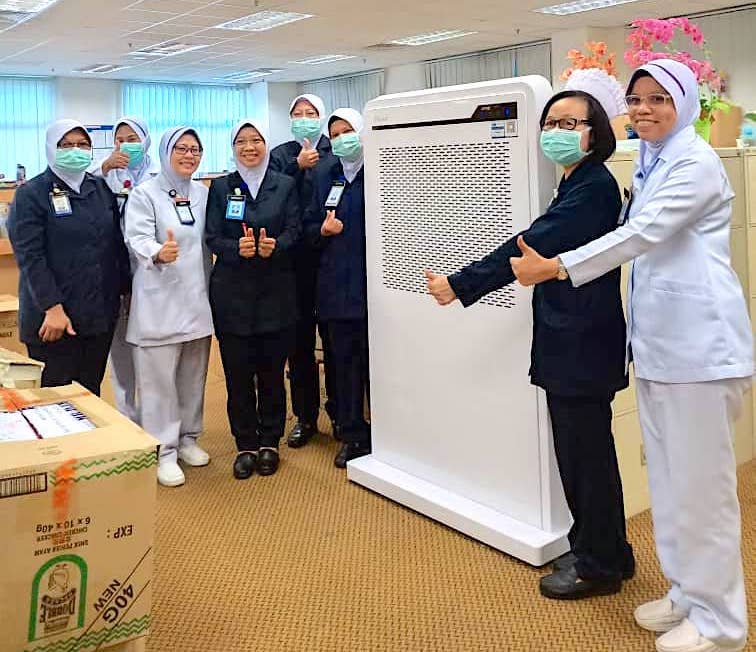 Kuala Lumpur, 9 April 2020 – In the midst of the Movement Control Order and COVID-19 outbreak currently concerning the nation, various organisations have approached to battle this pandemic, including Malaysia's homegrown international and leading air filtration manufacturer, MayAir Group.

Striving for the betterment of the nation and to prevent the spread of these infectious diseases in hospitals, MayAir Group stepped forward to contribute a series of air purifiers including D-Breath 5 and Air Purifier 401 worth up to RM100,000 to Hospital Sungai Buloh, Hospital Kuala Lumpur and Hospital Kluang, Johor. Ir Yap Wee Keong, Group Chief Executive Officer of MayAir Group elaborated that these air purifiers are able to specifically filter aerosolized particles or air droplets that contained bacteria and viruses.
"D-Breath 5 (certified with the AHAM seal and CE marked) comes with a HEPA filter that assists in filtering aerosolized particles or air droplets containing bacteria and virus, which is why we specifically allocated these purifiers for hospitals treating mainly COVID-19. Apart from the removal of microbes, this filter made from ultrafine particle filtration media is also capable of removing any particles that are larger than 0.3µm with minimum 99.99% efficiency," said Ir Yap.
"We know the sacrifices that the frontliners are facing every day, as such MayAir is also doing their best to provide the necessary to reduce the risk of frontliners getting infected, while ensuring them that they are not left behind and we care for their health and safety as well."
Being one of the established pioneers of air purification technology in China, MayAir Technology (China) Co. Ltd., the sister company of MayAir Group likewise extended their support by donating a series of air purifiers and air filters to various hospitals in China when the outbreak first arose in January 2020, namely Huoshenshan Hospital, Leishenshan Hospital, Jinyintan Hospital, Xiehe Hospital, Asia Heart Hospital, Huangpi County Hospital of Traditional Chinese Medicine that are located in Wuhan; Shanghai HuaShan Hospital, Ninth People's Hospital, No.10 People's Hospital and many others.
"It is our responsibility to assist as best we can to those who are in need of the assistance in order to combat Covid-19, particularly frontliners for all their sacrifices throughout the past few months," concluded Ir Yap.